Home
VLF Monitoring
Current System
"Split" E-Field
E-Field RX 6
WiFi E-Field RX
H-Field RX
VLFRX Tools
Optical Link
Live VLF Data
VLF Live Data
SID 24 Hr Data
SID 3 Day Data
SID 7 Day Data
Current VLF Events
Archive Data
Whistlers
Eclipse 2017
Weather
Weather Station
Forest WX Data
VLF Station 24 Hour SID Data Centered On Eclipse
This page links to all of the data my system collected during the 2017 eclipse in North America.

Began: Mon, Aug 21, 2017 at 1:14 pm
Maximum: Mon, Aug 21, 2017 at 2:41 pm 0.90 Magnitude
Ended: Mon, Aug 21, 2017 at 4:02 pm
Duration: 2 hours, 48 minutes

NASA GSFC Eclipse Data Sheet

NOTE: A 0-48khz VLF recording spanning +/- 8 hours from the event has been preserved and is available upon request.
Data files for each plot contain 2 or 3 columns:
Col 1: Time (UTC), GPS disciplined
Col 2: Amplitude
Col 3: Phase


VLF Station SID data from 37.343850,-79.288216, sorted by ascending frequency.


GBZ, Anthorn, UK. Click on image for larger version.
Click here for a version without event markers.
Distance: 5,853.1 km  |  Bearing: 315.4° | Data




NPM, Lualualei, Hawaii, USA. Click on image for larger version.
Click here for a version without event markers.
Distance: 7,630.6 km  |  Bearing: 78.8° | Data




NAA, Cutler, Maine, USA. Click on image for larger version.
Click here for a version without event markers.
Click here for the phase.
Distance: 1,291.7 km  |  Bearing: 312.7° | Data




NLK, Seattle, Washington, USA. Click on image for larger version.
Click here for a version without event markers.
Click here for the phase.
Distance: 3,629.4 km  |  Bearing: 56.8° | Data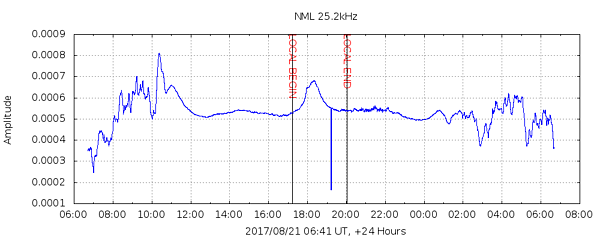 NML, La Moure, North Dakota, USA. Click on image for larger version.
Click here for a version without event markers.
Click here for the phase.
Distance: 1,862.1 km  |  Bearing: 51.4° | Data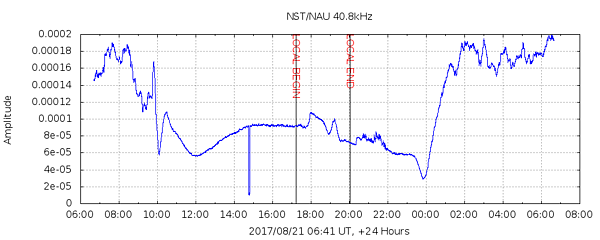 NAU, Aguada

,

Puerto Rico. Click on image for larger version.
Click here for a version without event markers.
Distance: 2,414.5 km  |  Bearing: 212.6° | Data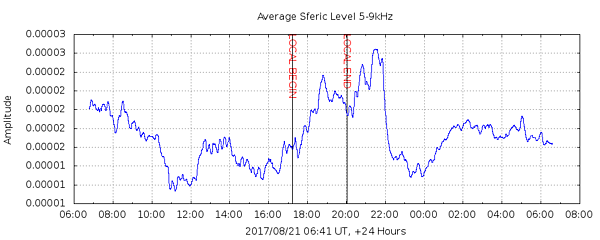 24 Hour Average Sferic Level 5-9kHz (click graph for larger image)  |  Data